Your pillar of strength, your rock, your world. Call her what you want – whether she's your own mother, the mother of your children, your aunt, grandmother, sister, or simply the person in your life who provides you with consistent love, comfort, and sound advice – you should take time this Mother's Day to make her feel appreciated for everything she does. For the sleepless nights, hours spent worrying, countless meals cooked, drives to football practice, and Saturdays spent at dance recitals, she deserves something more than a bouquet of flowers or a candle. If you don't have a big budget but still want to show her you care, we have a unique Mother's Day gift idea for you: micro-dosed edibles.
Was that a scoff we just heard? That isn't surprising. Many still attach negative stigmas to parents who consume cannabis. But parents, women especially, are actually becoming increasingly open about consuming cannabis for recreational and medical purposes. In a 2017 survey, Eaze Insights found that 63 percent of parents who consume cannabis do so daily. The research found that they enjoy a micro-dose of cannabis at the end of the day after their kids have gone to bed. In Eaze's 2018 Insights, their research concluded that the number of women who consume cannabis doubled year-over-year between 2017 and 2018. Women now make up 38% of cannabis consumers in California, and that number is steadily increasing.
So, please momentarily suspend your negative preconceptions and ideas of hippie parents, and let us tell you why 3Leaf's premium, healthy edibles make the best Mother's Day gift.
Edibles provide a range of calming and therapeutic effects.
Women are using cannabis as a wellness product. In the article Inside the Private World of Mothers Who Smoke Weed, author Christine Organ illustrates how mothers are consuming cannabis to help them manage a variety of needs, from recovering after pregnancy to balancing the endless demands of everyday life. Organ notes how women are reaping the medical benefits of cannabis with no more than a micro-dose.
"Because the amount of cannabis needed to create physical or mental relief is often significantly lower than the amount that causes inebriation, some mothers report that it allows them to manage ailments without losing focus the way alcohol and prescription drugs can make someone feel," writes Organ before quoting Lea, a mother of three from Illinois: 'You feel relief, but aren't tipsy or high,' explains Lea."
The image below compares women and men's reasons for consuming cannabis. As you can see, women are consuming mostly for personal care and sleep.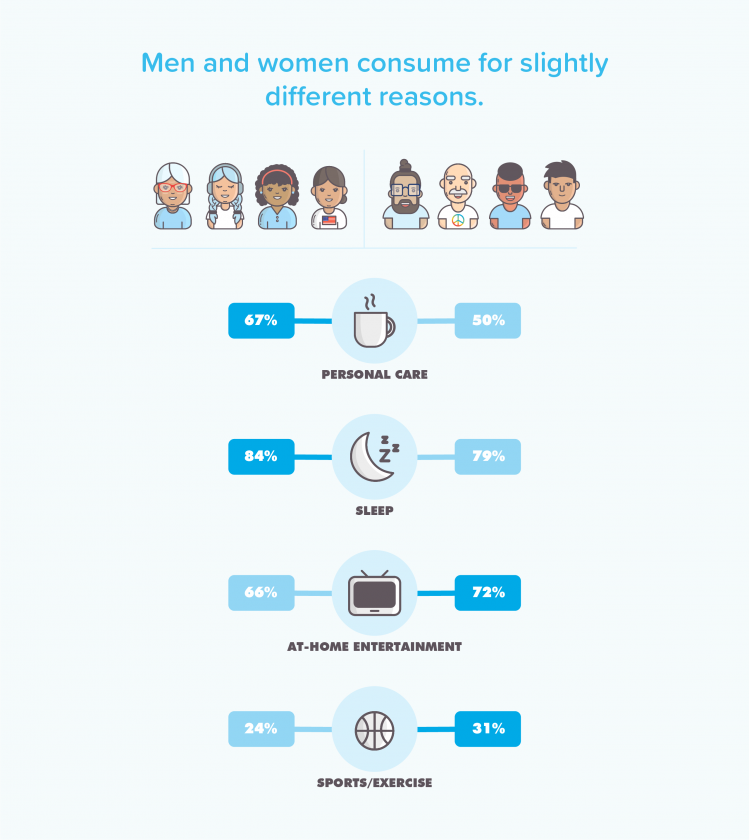 Any mother can attest that once a baby is born sleep becomes a thing of the past. And yet, sleep is a crucial element of parenting. Sleep increases our ability to focus on multiple tasks, and it keeps us from losing our patience – anyone ever felt cranky and irritable after only a couple hours of sleep? Research confirms that cannabis is an effective natural sleep aid. Moreover, the combination of THC and CBD is proven to be a highly effective combination for inducing restful sleep. A ratio-infused edible with 5mg of THC and 5mg of CBD pairs the relaxing effects of THC with the calming effects of CBD. 3Leaf now has a pair of 1:1 ratio-infused edibles; the Double Chocolate Cookie and Peanut Butter Cookie make a great Mother's Day gift for anyone who needs some self-love and a good night's sleep.
Women prefer edibles over other cannabis consumption methods.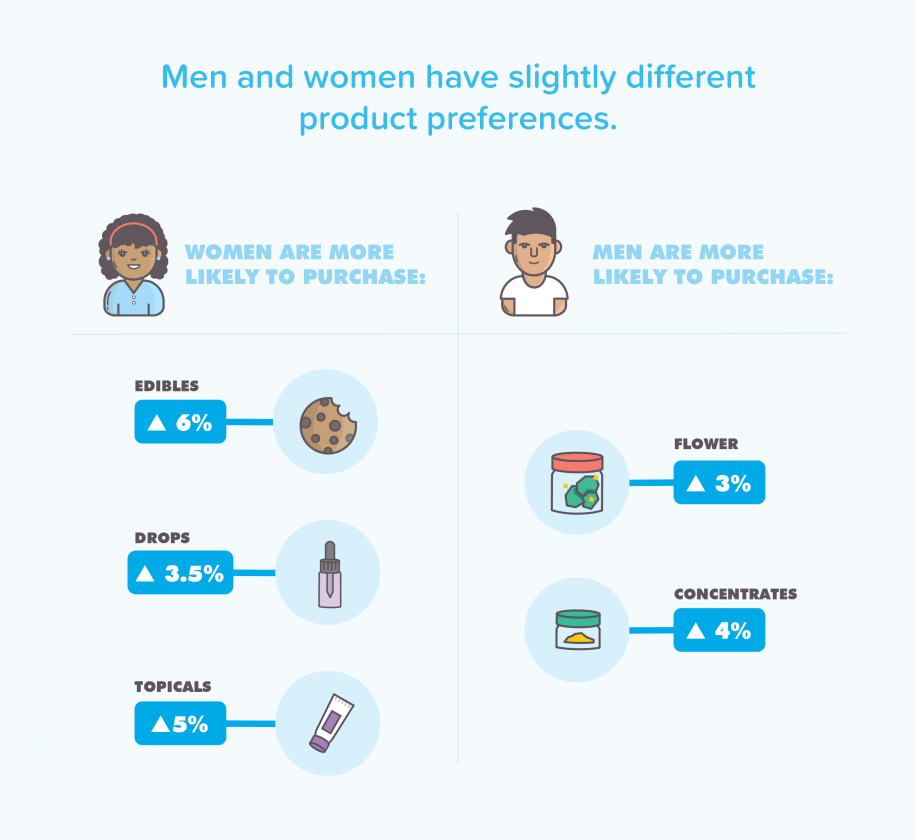 After everything that mothers do for us, why would you give her a gift she doesn't want? With edibles, you're guaranteed to give the mom in your life a unique Mother's Day gift that she'll actually enjoy. According to Eaze Insights, women prefer edibles over other cannabis-infused products because of the low-dose options and the fact that they offer a convenient way to consistently dose.
When shopping for edibles, make sure to only make a purchase from licensed dispensaries. You can find 3Leaf edibles in licensed dispensaries across California. Licensed retailers are required by law to only sell products that are compliant with California cannabis regulations. Compliant products must be lab-tested and consistently dosed in order for retailers to sell them. These rules are in place to make sure that consumers have a safe experience. In a previous blog post, we take an in-depth look at how to tell if your edible is compliant. It's a great read before shopping at a dispensary; you'll know exactly what to look for.
Edibles are perfect for beginners.
For the mom who is curious about trying cannabis, edibles make the perfect introduction for beginners. Edibles offer a discreet consumption method for anyone who might still be worried about the stigmas attached to cannabis. 3Leaf edibles, in particular, do not have any cannabis taste or smell. There's no need to worry about smelling like smoke; instead, you can enjoy the delicious taste of natural, flavorful ingredients in a small, subtle jelly.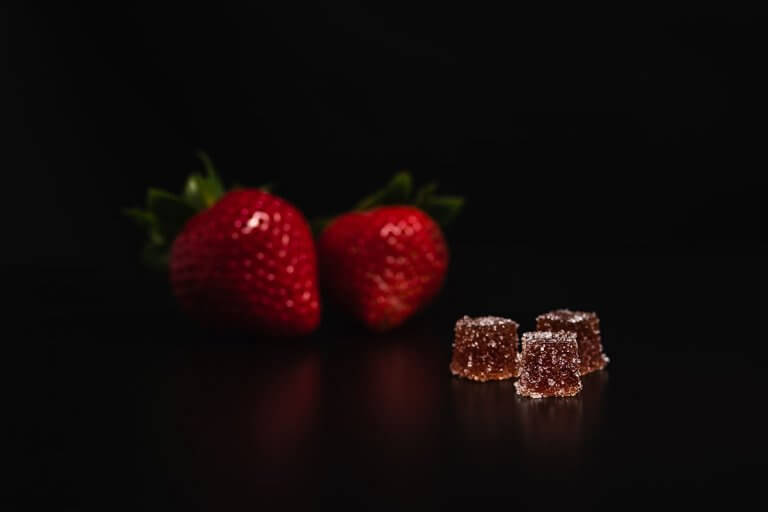 Gummies are the preferred edible of choice for most women. At 3Leaf, we put a natural spin on the classic gummy and created our micro-dose Strawberry Fruit Jellies and low-dose Blood Orange Fruit Jellies. We aim to offer healthy edibles with only the highest quality ingredients. We also pride ourselves on our ability to craft meticulously dosed edibles. We spent months working with our food scientist to determine how to properly infuse each edible with pure distillate so that you can enjoy an effective experience, every time. With four jellies per package, these edibles are perfect for anyone who wants to experiment with different doses. Moreover, all 3Leaf products are sold in child-resistant packaging. Moms already have enough to think about; they shouldn't have to worry about safely storing their edibles at home.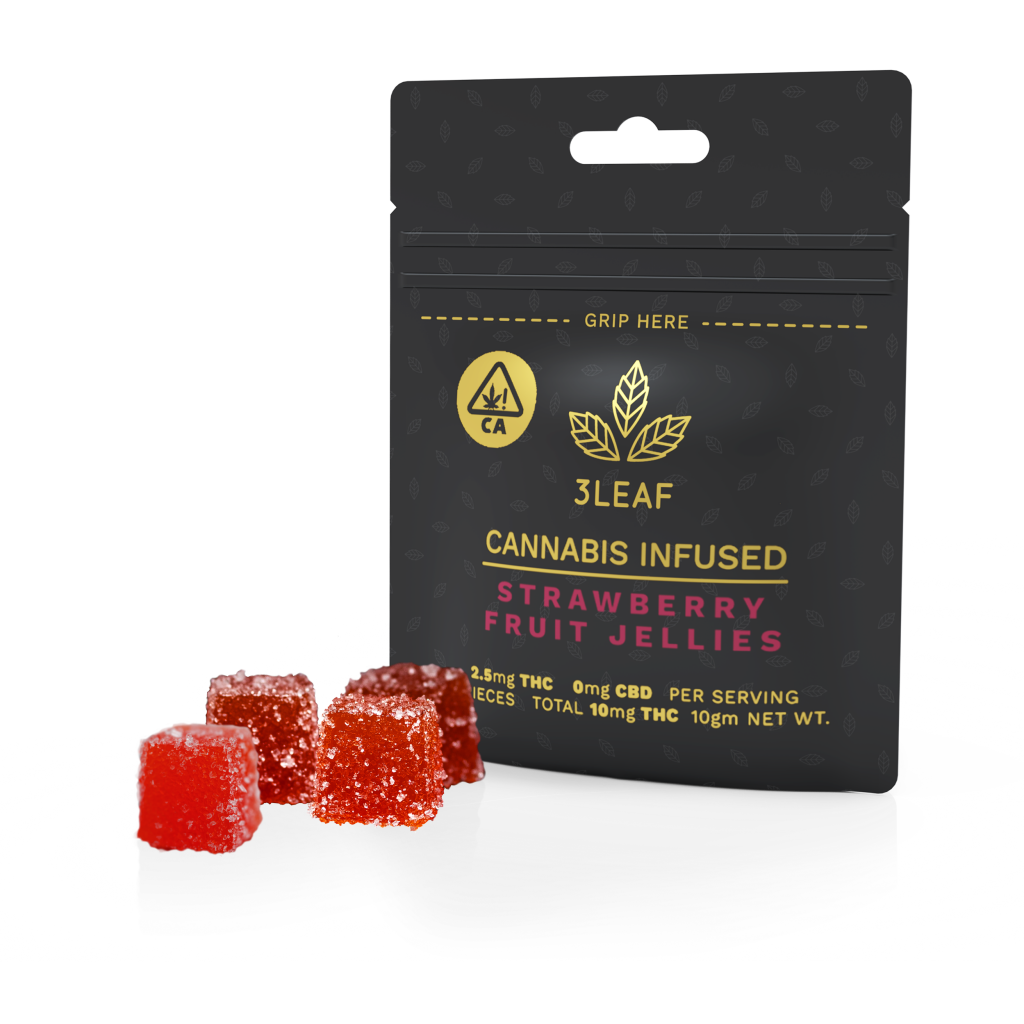 Mother's Day is Sunday, May 12. You still have time to get her that unique gift! To find 3Leaf at a California retailer near you visit our Store Locator.
And to each and every mother, we're wishing you a very happy Mother's Day! We hope you feel beyond loved and appreciated for everything you do.
—
Thank you for taking the time to read our post. To keep up with exciting 3Leaf news, including new product launches, subscribe to our newsletter and follow us on Instagram and Facebook.