3Leaf_Ultimate Edibles Dosage Guide

Cannabis-infused edibles are an ideal consumption method if you are looking for a safe, consistent, and long-lasting experience. Understanding dosing is crucial for ensuring that your experience meets your expectations. We put together a simple guide so that you can better understand what to expect from different doses.
The first step with edibles is purchasing products that are compliant with state regulations, from state-licensed California retailers. Compliant California edibles must undergo rigorous lab-testing to ensure that they are healthy and safe as indicated in the State's standards. Start by finding a licensed retailer near you, and then follow these steps when choosing your edible.
UNDERSTAND THE DIFFERENCE BETWEEN THC AND CBD
California edibles can contain up to 10 milligrams of cannabis in an individual serving. They can contain a variety of cannabinoids, but the most common cannabinoids found in edibles today are tetrahydrocannabinol (THC) and cannabidiol (CBD). Look for the cannabinoid content listed on the front of the package.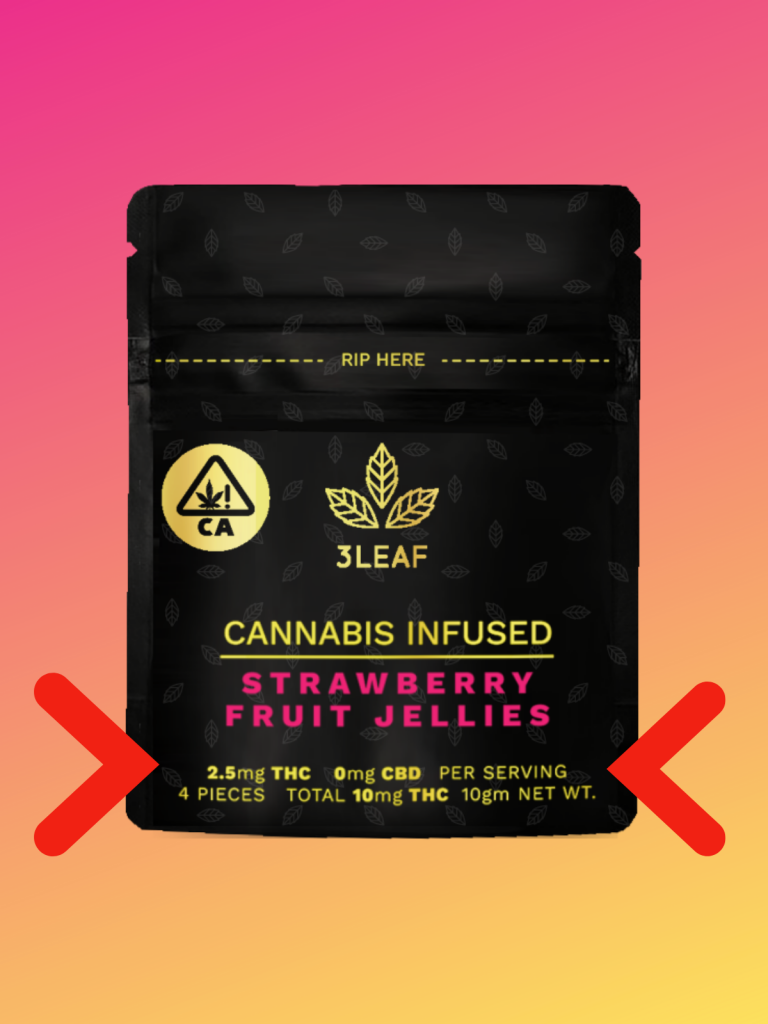 THC provides what is known as a psychoactive high. Its effects range from mildly uplifting to full-blown euphoria. A micro-dose of THC can alleviate anxiety and make you feel creative and motivated. Too much THC can induce feelings of paranoia or nausea, so it's best to stick to a micro- or low-dose if you're just starting to experiment with edibles.
CBD is non-intoxicating – it does not create the feeling of being high. Instead, it promotes relaxation in the body. CBD infused edibles are often used for post-workout recovery because it alleviates muscle tension and promotes rest. In addition, CBD mellows the elevating effects of THC. To experience the best of both cannabinoids, ask your budtender about ratio-infused edibles.
FIND THE EDIBLE DOSE TO MEET YOUR NEEDS
Before talking to your budtender, it's helpful to have some cannabis terms down. In our guide, we outline what constitutes a micro-dose, a low-dose, a 1:1 ratio-dose, and a medium-dose. We provide insight into how you can expect to feel from each dose, as well as recommendations on the best time to experiment with the different doses that can be infused in edibles.
It's also helpful to know what type of cannabis is infused in your edible. For example, 3LEAF infuses a clean distillate with high purity into our edibles. This provides a different experience when compared to edibles infused with flower or other types of concentrates. To better understand the type of experience that distillate infused edibles provide, read our post on cannabis distillate.
REMEMBER,

LOW AND SLOW

WHEN DOSING WITH EDIBLES
When consuming edibles, be patient. It can take between 30 and 90 minutes for edibles to take effect compared to smoking or vaping, which takes between 10 and 20 minutes to take effect. When consuming edibles, the cannabinoids are passed through the liver and then processed through the blood-brain barrier. This process takes longer, but it creates more intense and longer-lasting effects, which means you can consume a lower dose to experience the effects you're looking for.
Ultimately, it's important to know that your cannabis experience will be entirely unique to you. It requires experimentation to find what dose works best for you. But, following this guide will give you some insight into what to expect so that you can enjoy a consistent and effective experience.  
—
Thank you for taking the time to read our post. To find out more about 3Leaf's low-dose, high-quality edibles click here. To find 3Leaf near you click our interactive map for a full list of retailers carrying our products. To keep up with exciting news, including new product launches, subscribe to our newsletter and follow us on Instagram and Facebook.