This is the perfect time to reflect on the past year. As we look back at 2018, the theme that comes to mind for the cannabis community is: triumphs and challenges.
Throughout the year we saw cannabis make significant strides into mainstream culture: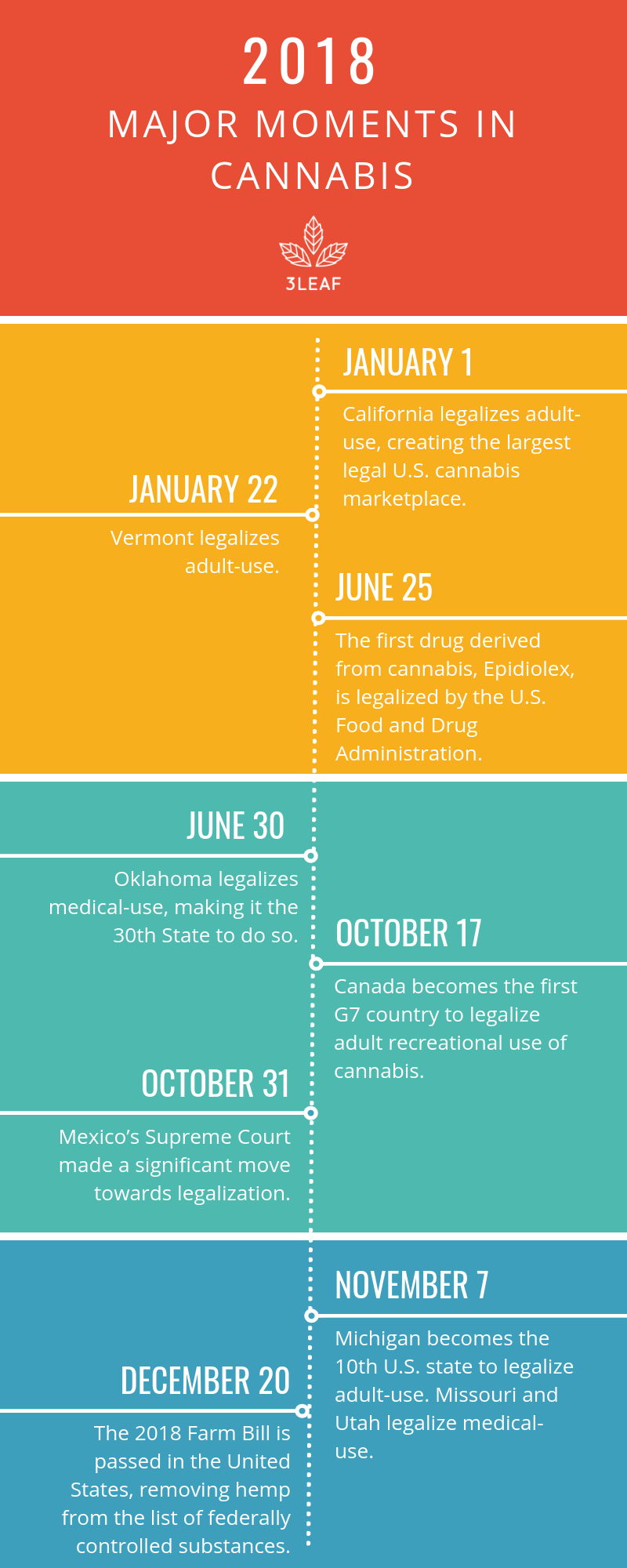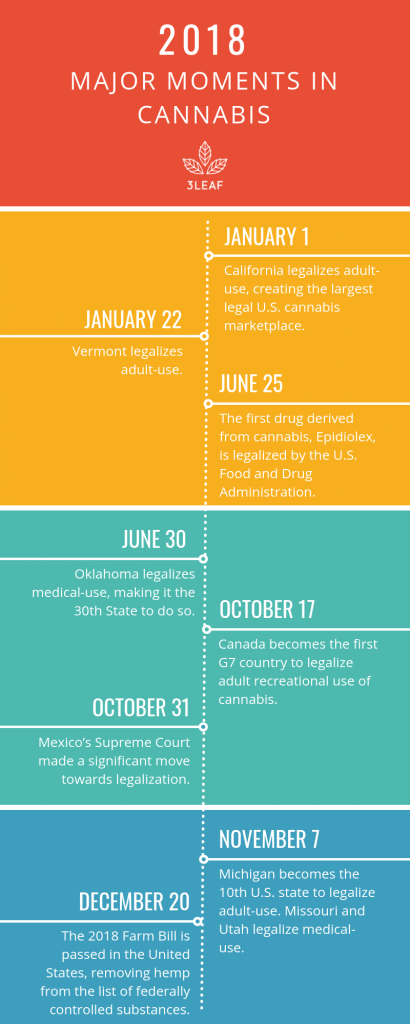 Step-by-step the prohibition of cannabis is being removed, right before our eyes.
In California we made significant progress in 2018 towards making cannabis increasingly safe and accessible. The State introduced requirements for lab testing of all products sold to consumers, making sure that compliant cannabis is free of pesticides, residual solvents, microbes and other chemicals. These lab tests also validated the dosage noted on the containers, so retailers and consumers can feel safe about the product. The State's regulations also laid out what information was required on the packaging and took measures to protect children against accidental consumption. These regulations also ensured that all cannabis was handled and sold by valid license holders.  
But, we are still in the early stages of a budding industry (pun intended). Everyone in the California cannabis community – cultivators and processors, manufacturers, distributors, retailers, and consumers – has had to navigate through changes to regulations in a small window of time.
We would agree that there remains areas for improvements with these regulations, and we look forward to seeing those in 2019. There are a couple of items worth noting here:
The removal of product images on labels and packaging.
The fact that we are unable to showcase on the label what is inside the packaging is contrary to traditional practices in consumer packaged goods. Showing the product on the outside of a package creates transparency on the part of the manufacturer, and allows consumers to make better informed decisions by being able to see what it is they are purchasing.
Products no longer have to come in child-proof packaging.
When adult-use was legalized in California, it was required that all cannabis products must be sold in child-proof packaging. The latest draft of regulations introduced in mid December, set to take effect in January 2019, now exclude child-proof packaging as a requirement. Keeping cannabis away from children is a top priority for most in the industry. Cannabis should bring you peace of mind, and child-proof packaging allows you to store products in your home without having to worry. While it is no longer a requirement, 3Leaf will continue to sell our products in child-proof packaging.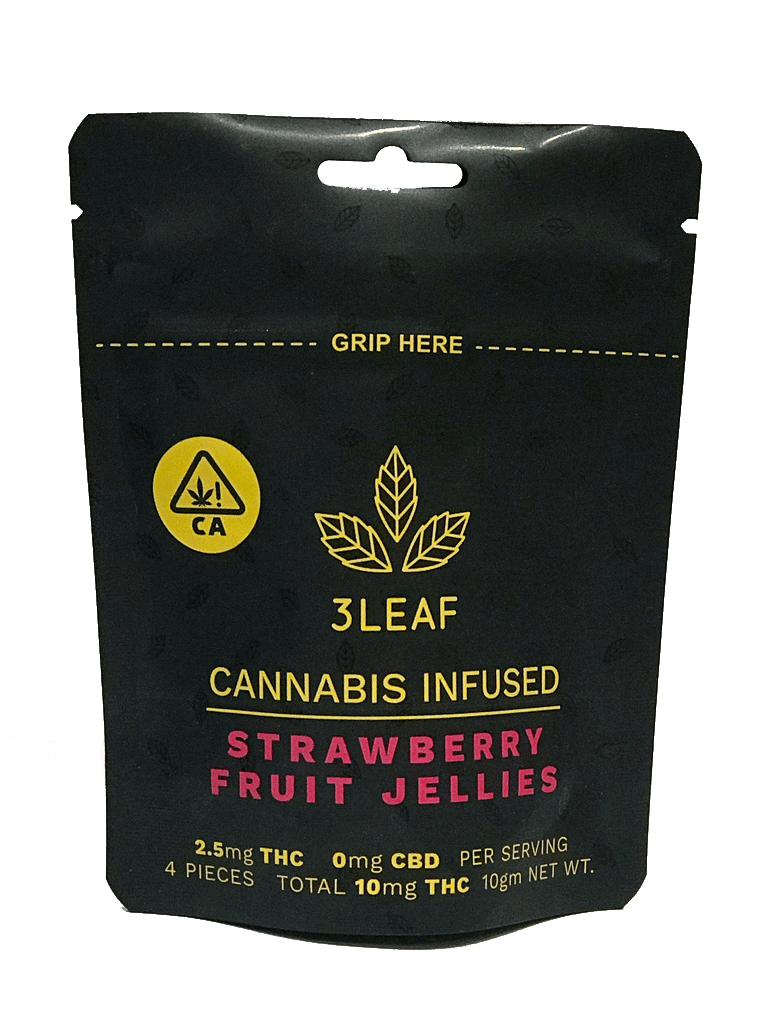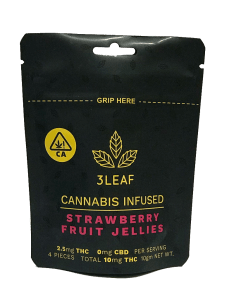 All 3Leaf products will continue to be sold in childproof packaging.
As we look back at 2018, the triumphs certainly outweigh the challenges. A particular triumph for 3Leaf was the introduction of our new line of natural Fruit Jellies. When we began working on the product line, we knew that we wanted to elevate the ever popular gummy, and we wanted to provide consumers with options for a micro- and low-dose of THC. So, we worked tirelessly with our food scientist to craft edibles with the highest quality natural ingredients without any refined sugar, or artificial flavors or colors. And, we opted to make our fruit jellies without any preservatives. They have a shorter shelf life by design. In true 3Leaf form, we crafted a product that consumers can trust to provide a consistently effective experience, and that they can enjoy without any worry or guilt.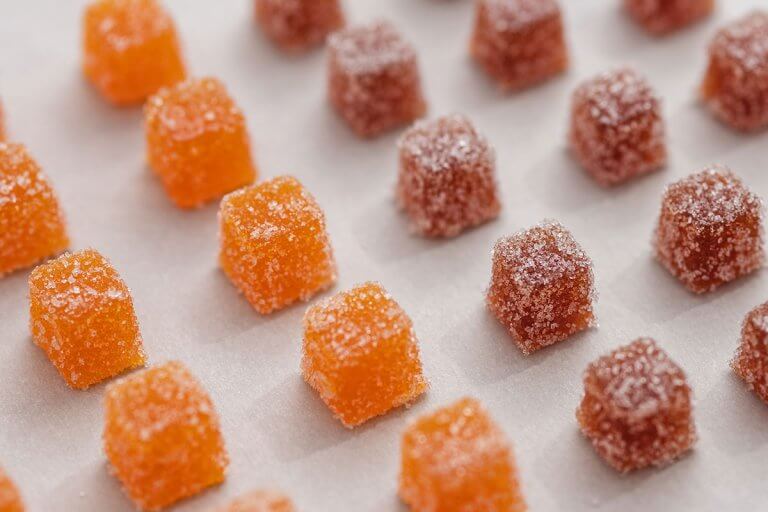 3Leaf's micro-dose Strawberry Fruit Jellies and low-dose Blood Orange Fruit Jellies. 
This year we were able to partner with some amazing event curators in the California cannabis community. With a mix of both entertainment and education, we saw individuals from all walks of life come together to celebrate, socialize, and learn about the benefits of cannabis and the changing industry. Check out some of our favorite events of the year, and make sure to keep an eye out for what these fantastic organizers have in-store for 2019.
Emerald Exchange
– Summer Solstice at Le Jardin Secret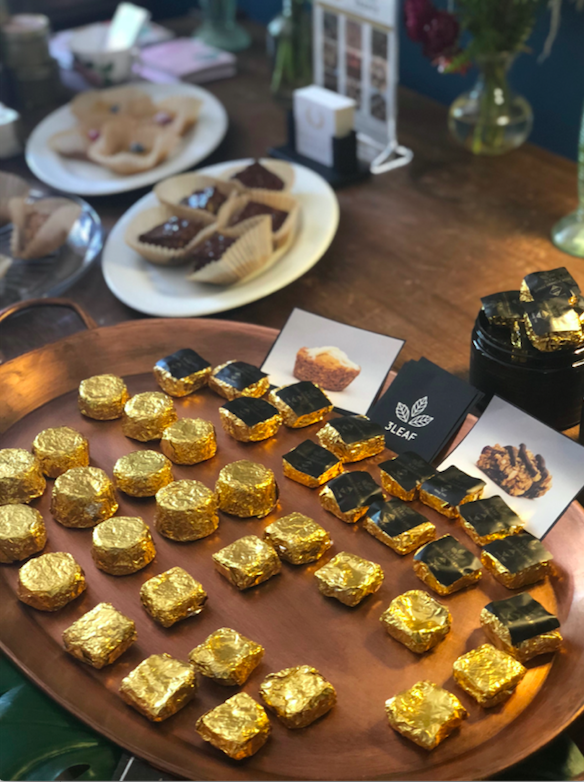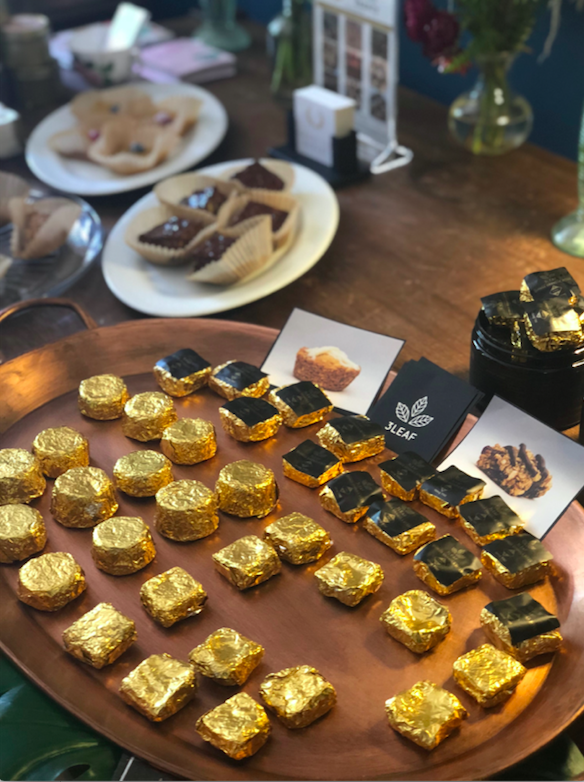 3Leaf samples at Food and Flower Brunch on June 3, 2018. 
With a new year now upon us, we want to thank you first for all of your support in 2018.
Thank you to our fantastic retail partners! You have given us unwavering support since 3Leaf introduced our first two products in late October 2017, with our Coconut Oatmeal Cookies and Quinoa Granola Bites. It's our goal to offer products of the highest quality that enable consumers to live life to the fullest. Without our retail partners, it would be impossible for us to bring 3Leaf to consumers. So, thank you, thank you, thank you!
And, to each and every one of you who took a chance on a fresh brand on the scene, thank you for trying something new. To everyone who comes up to meet our team at our in-store demo days, thank you – we love talking to you and hearing what you have to say. Connecting with you and hearing your stories continuously inspires us to be better in what we do.
From our whole team, we wish you all the best for the rest of 2018 and nothing but good things for 2019!
---
Thank you for taking the time to read our post. To find out more about 3Leaf's low-dose, high-quality edibles click here. To find 3Leaf near you click our interactive map for a full list of retailers carrying our products. To keep up with exciting news, including new product launches, subscribe to our newsletter and follow us on Instagram and Facebook.